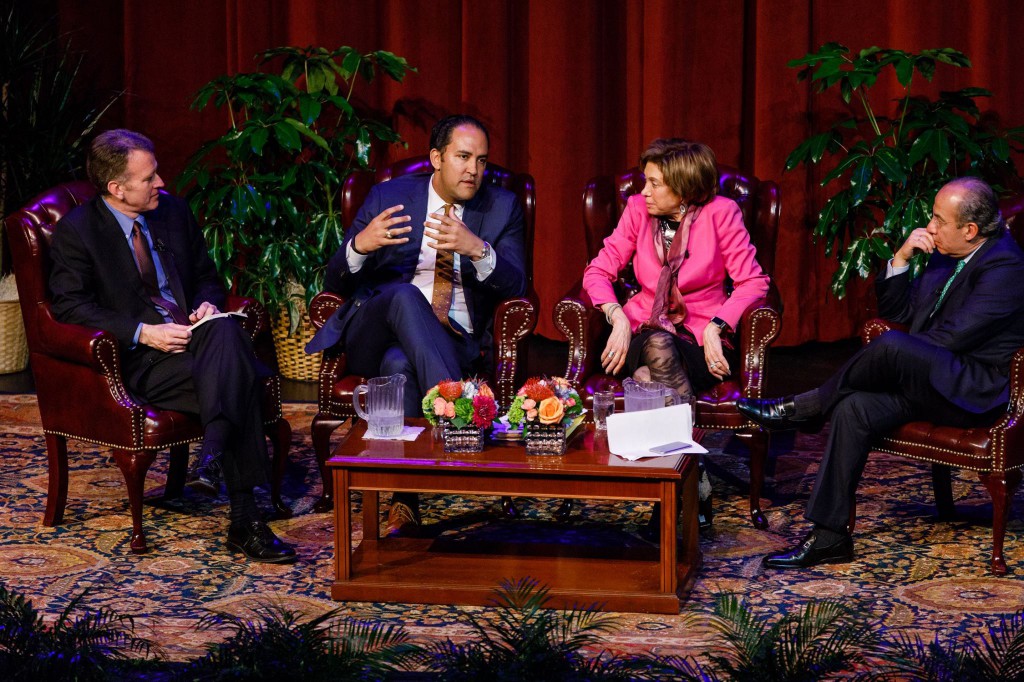 2017 Wiley Main Program:America First? The Future of U.S. – Mexico Relations
"In order to be good stewards of hard-earned taxpayer dollars, we should leverage that in the most efficient way that actually solves the problem. We can protect the border and facilitate the movement of goods and services at the same time."
The MSC Wiley Lecture Series features some of the world's most celebrated experts. Past lecture panelists include former U.S. Presidents Gerald Ford and Jimmy Carter, U.S. Secretaries of State Henry Kissinger, Alexander Haig, Madeleine Albright, and Condoleezza Rice, and former British Prime Ministers Edward Heath, James Callaghan, and Margaret Thatcher. Notable public personalities such as ABC news correspondents Sam Donaldson, George Will, 60 Minutes co-editor Ed Bradley, and former press secretary to President Reagan, Larry Speakes, have also spoken.
In the weeks prior to Main Program, the Wiley Lecture Series Committee presents a series of interviews with faculty designed to inform the public about the chosen topic.
The scope of the Wiley Lecture Series extends far beyond the confines of Texas A&M. While the program generally has an in-house audience of about 2,500 students and local citizens, it also receives extensive media coverage.
Confronting a Nuclear North Korea (2018)
Ambassador Christopher Hill, former Ambassador to South Korea
Ambassador Nicholas Burns, former Under Secretary of State for Political Affairs
General Robert Foglesong, former Commander of U.S. Air Forces  in Europe
Dr. Douglas Brinkley, American Historian and Best-selling Author (Moderator)
America First? The Future of US-Mexico Relations (2017)
Felipe Calderón, President of Mexico from 2006 to 2012
Will Hurd, U.S. Representative for the 23rd Congressional District of Texas
Dr. Laura Tyson, Director of National Economic Council from 1995 to 1996
Steve Inskeep, Host of NPR Morning Edition (Moderator)
In Pursuit of Peace: An Israeli Palestinian Dialogue (2016)
Dr. Hanan Ashrawi, Palestinian Legislative Council Executive
Ehud Barak, former Prime Minister of Israel
Janine Zacharia, Middle East Correspondent for the Washington Post  (Moderator)
Guiding Those Who Govern (2015)
David Axelrod, Former Senior Advisor to President Barack Obama
Ari Fleischer, Press Secretary for President George W. Bush
Roland Martin, Host of News One Hour (Moderator)
The Impacts of Modern American Politics (2014)
Dr. Condoleezza Rice, Former U.S. Secretary of State
Dr. Douglas Brinkley, American Historian and Best-selling Author (Moderator)
Boots Off The Ground: A 21st Century American Military (2013)
General Stan McChrystal, former commander of U.S. forces in Afghanistan
Ryan Crocker, former Ambassador to Iraq and Afghanistan
David Sanger, Chief Washington Correspondent for the New York Times (Moderator)
The Rise of the Rest: Embracing a Newer World Order (2012)
Steve Forbes,  CEO Forbes Media
Robert Reich, former Secretary of Labor
Globalization Goes South (2011)
Vicente Fox, President of Mexico from 2000 to 2006
Dr. Moises Naim, Senior Associate, Carnegie Endowment for International Peace
Barbara Kasoff, CEO Women Impacting Public Policy (Moderator)
Chasing Al-Qaeda (2010)
General Wesley Clark, former NATO Supreme Allied Commander
Governor Tom Ridge, former and first Secretary of Homeland Security
The First 100 Days (2009)
Karl Rove, former Deputy Chief of Staff and Senior Advisor to President George Bush
Juan Williams, National Public Radio Correspondent/Fox News Contributor
Iraq: The Road Ahead (2008)
Ambassador L. Paul Bremer, former Head of the Coalition Provisional Authority
The Honorable Lee Hamilton, former Congressman and Co-Chair of the Iraq Study Group
General Peter Pace (ret.), former Chairman of the Joint Chiefs of Staff
Bernard Kalb, Moderator, Veteran Journalist
The Honorable Rudolph W. Giuliani (2007)
Rudolph Giuliani, former Mayor of New York City
Global Terrorism: Strategies for Defense (2006)
Ehud Barak, former Prime Minister of Israel
Anthony Lake, former National Security Advisor
Steve Chapman, Moderator, Chicago Tribune Columnist
Preventing Conflict Abroad: Multilateralism or Unilateralism? (2005)
The Honorable Newt Gingrich, former Speaker of the US House of Representatives
Ambassador Nancy Soderberg, former US Representative to the United Nations
New York Times Columnist David Brooks, Moderator
Disarming Iraq (2004)
Dr. Hans Blix, Chairman of the International Commission on Weapons of Mass Destruction
Joe Brown, Moderator, KBTX News Anchor
Force and Diplomacy (2003)
Dr. Madeleine Albright, former Secretary of State
Edward P. Djerejian, former Ambassador to Israel and Syria
Dr. Charles F. Hermann, Moderator, Interim Associate Dean for Academic Programs and Associate Dean for International Affairs of the Bush School
A Conversation with Walter Cronkite (2002)
Walter Cronkite, former CBS Evening News anchorman
Donnis Baggett, Moderator, Publisher and Editor of The Eagle
Target Americans: Your Safety Abroad (2002)
Thomas Hargrove, author of "Long March to Freedom"
Bob Novak, panelist of the weekly CNN program, "The Capital Gang"
Al Hunt, panelist of the weekly CNN program, "The Capital Gang"
Margaret Carlson, panelist of the weekly CNN program, "The Capital Gang"
Kate O' Beirne, panelist of the weekly CNN program, "The Capital Gang"
Mikhail Gorbachev: Reflections of a World Leader (2001)
Mikhail Gorbachev, former General Secretary of the Communist Party and President of the Soviet Union
The Waking Dragon (2000)
Yuan Jian, Director of the American Studies Division at the China Institute of International Studies.
Ambassador James R. Sasser, Ambassador to the Peoples Republic of China, 1995-1999
Bernard Kalb, panelist of the weekly CNN program, Reliable Sources
Changing of the Guard: National Security for the Post Cold War Era (1999)
Robert M. Gates, former Director of Central Intelligence Agency
Anthony Lake, former National Security Advisor
Honorable Sam Nunn, former US Senator
Charlie Rose, Moderator, The Charlie Rose Show and correspondent of 60 Minutes II
The Road to Stability: Africa in the Next Millennium (1998)
F.W. de Klerk, former President of South Africa and Nobel Peace Prize Recipient
Alan Gelb, Chief Economist of Africa for the World Bank
Muna Ndulo, Expert on Human Rights, Trade and Investment in Developing Countries, former Public Prosecutor Zamiba Government
General Charles G. Boyd, USAF, retired, former Deputy Commander-in-Chief US European Command
Barrie Dunsmore, former Foreign Affairs Correspondent for ABC News
On the Front Line (1997)
General H. Norman Schwarzkopf, retired
Framing American Policy (1996)
Dan Quayle, former Vice President of the United States
George Mitchell, former Senate Majority Leader
Arthur Schlesinger, Pulitzer Prize Winning Historian
Margaret Warner, Moderator, Anchor of The News Hour with Jim Lehrer
Crossing Into Uncertainty (1995)
General Colin Powell, retired, former Chairman of the Joint Chiefs of Staff
Global Policing (1994)
Dr. Les Aspin, former US Secretary of Defense
Dr. Jeane Kirkpatrick, former Ambassador to the United Nations
William F. Buckley, Moderator, Syndicated Columnist
20th Century Insights: An Evening with Margaret Thatcher (1993)
The Right Honorable Lady Margaret Thatcher, former British Prime Minister
Dan Cordtz, Moderator, Financial World Magazine
New World. New Europe. New Defense? (1992)
Adm. William J. Crowe, Jr., former Chairman of the Joint Chiefs of Staff
Dr. Antoni Kaminski, Director of the Polish Institute of Foreign Affairs
Tamas Katona, Hungarian Diplomat
Dr. Jean Rene Gehan, Counselor for Political and Military Affairs, French Embassy
Dr. Vitaly Shiykov, Deputy Chairman, Russian Federation Committee on Defense
Catherine Crier, Moderator, Chief Correspondent of Financial World Magazine
A North American Community Within Reach (1991)
William Cavitt, U.S. State Department, Head Office of Canada
John Hammill, Canadian Consul, Texas/Oklahoma Region
Dr. German Von Bertrab, Head of Washington Office, Mexican Free Trade
Larry Speakes, Moderator, former Deputy Press Secretary
The Changing Faces of Communism (1990)
Andre Erdos, Hungarian Foreign Minister
Nikolay Shishlin, Soviet Diplomat
Andre Wieland, GDR Foreign Minister
Witold Trzeciakowski, Economic Minister of Poland
Kenneth Adelman, former Director of the Arms Control and Disarmament Agency
Sam Donaldson, ABC News (Moderator)
The Middle East: Peace or Powder Keg (1989)
Dr. James Jonah, Assistant Secretary-General of the United Nations
Robert C. McFarlane, former National Security Advisor
Adm. Stansfield Turner, former Director of the CIA
Ed Bradley, Moderator, 60 Minutes Co-Anchor
Nuclear War: Thinking the Unthinkable (1988)
The Right Honorable Lord Callaghan, former British Prime Minister
Robert S. McNamara, former Secretary of Defense
John Tower, US Senator
William F. Buckley, Moderator, Syndicated Columnist
The Constitution and Foreign Policy: A Question of Control (1987)
Dr. Jeane J. Kirkpatrick, former Ambassador to the United Nations
Edmund Muskie, U.S. Senator
Howard K. Smith, Moderator, ABC News Correspondent
US Interventionism: Resolving International Conflict (1986)
Gerald R. Ford, former President of the United States
Jimmy Carter, former President of the United States
Dr. Stephen Ambrose, Historian
George F. Will, Moderator, Syndicated Columnist
US Soviet Relations: The Quest for International Security (1985)
Dr. Zbigniew Brzezinski, former National Security Advisor
Dr. James Schlesinger, former Secretary of Defense
Arkady Shevchenko, former Soviet Ambassador to the United Nations
Perspectives on US Foreign Policy (1984)
Alexander M. Haig, former Secretary of State
Dr. Henry Kissinger, former Secretary of State
The Future of the Western Alliance (1983)
Gerald R. Ford, former President of the United States
Edward Heath, former British Prime Minister
Helmut Schmidt, former West German Chancellor
Marvin Kalb, NBC Correspondent